Frequently Asked Questions
Due to the number of customers over the years that have come to us with various questions, misunderstandings, audio-babble from the internet, or just plain ignorance of how we do business, this section answers questions about our service.

Q: What is your hourly rate?
A: We like to estimate by the job since every machine is different. To the degree we charge by the hour, our advertised rate is $100 per hour. In most cases, minor repairs while you wait are in the $30 to $75 range plus parts. See our Pricing Policy for more info.
Q: What do you charge to look at a piece of equipment?
A: it varys enormously based on the equipment, but most brief examinations are done while you wait for $15-$30. See the estimate policy on the home page near the bottom.

Q: I really have to run, I'm late for an appointment. Can I just drop it off?

A:No. State regulations require us to have formal paperwork created for each unit dropped off. If we accept equipment on a drop-and-run basis we are breaking the law and can be penalized. If you're short on time, we'll ask you to return when you have more time available. On average we ask customers to set aside 15-30 mins minimum based on what is necessary for examining their equipment and customers ahead of them

Q: What kinds of equipment do you service?
A:Please see our "What we service" section of our website. When in doubt, call.

Q: Can I have my repair done in a week or less?
A: if the repair is minor it can often be done while you wait. However if the repair is complex it will need to be left. At this point the completion date is based on a variety of factors, discussed at the time the set is left.

Q: You said my set would be done on "this" date. Why isn't it done?
A: The date of completion we provide is a tentative estimate for completion of your repair based on our workload and what we know about the machine. This can vary enormously based on those two factors, so we politely ask that you wait for our phone call. It doesn't do us any good to hold the machine hostage, since we can't get paid until you pick it up.

Q: Do you offer in-home repairs or house-calls?
A: No. We do not offer an in-home repair service or house call, as there are too many different causes for a failure in these machines. Without bringing the whole store with us (obviously not practical) we can't afford to go back and forth from the customer's home to get what we need. It also means the customer's home stereo is apart all over the room until the repair is completed. The days of in-home repairs ended with the 1980s

Q: Do you accept repairs shipped to you?
A: Yes, we accept ship-in repairs, but special precautions must be followed when packing a unit, which is outlined under the ship-in section of our website.

Q: I found someone to do it cheaper and faster. Can I bail out on the repair and just pick up my equipment?
A: We are a professional service. We may not be the fastest or cheapst, but we perform the repairs correctly and our time is valuable to us. If the customer decides to bail on the repair, we will charge for the time spent and whatever parts were invested for the set.

Q: I read online that recapping this equipment is necessary to make it sound good. Is this true?
A: Recapping has both benefits and costs. If the machine is of a certain age then it is often necessary to recap it simply because the life of the old capacitors have been exceeded. This is especially true with tube units. However, equipment built after 1975 unless it has been in heavy use, poorly ventillated, or not use much at all rarely needs a full recap. Test equipment and proper troubleshooting techniques determine what capacitors need replacement in equipment. We can suggest various levels of restoration based on customer wants and needs.

Q: Do you guys do mods? I have an amplifier and I read these mods "lift a veil" from the sound.
A: We stray away from modifying equipment. Unless the modifications are well documented, are safe, do not present harm to the equipment (think beer-can sized capacitors and nowhere to mount them,) and have scientific proof (not "it sounds so much better"), we will decline requests to modify equipment.

Q: Can you convert my set to LEDs?
A:We can, though we don't recommend it. LEDs are a point source illumination rather than a wide angle dispersion. This often means that there is a "fence post" effect when switching to LEDs, but they can be great for status lamp displays. Also, the color temperature of the original lamps are hard to match and often people are disappointed when the conversion leaves their aqua blue Marantz gothic blue.
original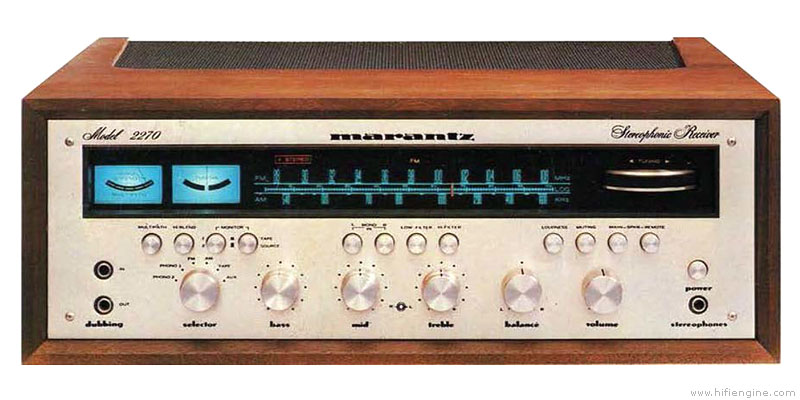 Led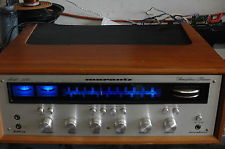 Q: Can I bring in my own parts?
A: No. Occasionally we request an owner to order parts on our behalf from an uncooperative supplier. Otherwise, we provide all parts on repairs we do. This way we know the origin of the parts used and we can provide a warranty on parts installed.

Q: I just need a belt for my turntable. Do you sell belts? Can I buy one from you?
A: Yes, we do sell belts. However, you MUST bring in the turntable so we can size it up correctly. We do not sell belts without having the turntable here. If the belt is too tight it will kill the motor. Too loose and you have a speed problem. We can also see if the turntable needs any other service at the time you bring it in. This way we can ensure you go home with a properly working turntable.

Q: I need a needle for my turntable. Do you sell needles?
A: Yes, we sell a HUGE variety of needles and cartridges. Please bring us the old needle to identify it. Even better: bring the turntable. This way if we don't have your needle we can mount another cartridge to ensure you can go home and play vinyl without having to wait for the stylus order to come in.

Q: Can you give me a "ballpark" figure as to what my repair is going to cost?
A: Since every machine has a different scenario, we do not provide a ballpark figure since there is far too much variance. It could be $50, or it could be time to get a new machine. The best thing to is to bring it in so we can examine it. We can then figure out what's really wrong and what's required to repair it and at what cost.

Q: Why aren't you open Thursdays?
A: Statistically, it has been shown that Thursdays are our slow days and fewer customers come in. Therefore given our workload and the large amount of complex repairs, we use Thursdays to work on those complicated sets without the interruption of phones and customers.

Q: Do you work on Professional sound equipment? Can I bring in my 32 channel mixer?
A: We work on a very small amount of pro sound gear, including guitar amps, Tascam portastudio cassette series, some amplifiers, and passive speakers. No large equipment. No Mixers. No powered speakers. Please call if in doubt.

Q: I'm military, and may be deployed.I may not be back for several months. What is going to happen to my equipment?
A: As long as we are notified either by phone or email that you are away on duty we'll hold on to your machine without penalty. You may also appoint another family member or friend to pick the set up on your behalf.

Q: How long do I have to pick up my set after the repair work is done?
A: We give 30 days to pick up a repair without penalty after repairs are complete, after which we charge $1.25 / day for up to an additional 60 days. If after 90 days from the date of first notification the set isn't picked up, it will either be scrapped or resold to cover repair costs. When you leave your set, you will be asked to sign a release agreeing to this. We often contact customers 3-5 times before invoking the "scrap or resell" option. On sets of high value, we'll send you a certified letter. Note that since we're also a licensed second-hand dealer, we're required to operate under TWO sets of legal guidelines.

If you're uncomfortable with this, please let us know right off. We make special allowances for customers in the military, or who are living on limited funds, such as only Social Security, and need to make several payments before the bill is satisfied.